What's New in District 22?
Howdy! We hope this note reaches you as you prepare for the storm arriving this weekend. The City of San Antonio, Bexar County, and State of Texas officials have worked to prepare for the effects of the storm. The Texas Division of Emergency Management (TDEM) has activated 700 members with the Texas Army and Air National Guards and Texas State Guard.
We encourage you to to visit the Texas Prepares website to ensure you have a plan in place as the storm hits. Here is a link to road closures across Texas and the most recent situation report from the Texas Dept. of Public Safety. Additionally, you can download the Ready South Texas App that will keep its users updated on storm conditions and provides helpful tips for storm preparation. We hope you stay safe and dry this weekend!
Last week, the special session came to a close after 29 days of hard work and negotiations. We were able to come to agreement on several important pieces of legislation that will make major improvements in the areas of education, women's health, election integrity, and voting rights.
Now that the special session is behind us, we're looking forward to spending time in the community. We hope to see you around the district!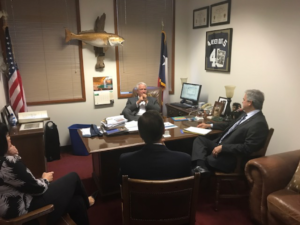 (Visiting with City of Austin Mayor Steve Adler in our Capitol office during the special session.)
---
Accomplishments of the Special Session
Sunset Legislation for State Agencies
State law requires every state agency to periodically undergo a process called sunset review. During the process, legislators evaluate an agency's functions and work to increase efficiency and accountability in the agency's processes. Sometimes, the sunset review leads to a consensus that the agency should be abolished ("sunsetted") entirely. If the Legislature does not vote to extend an agency, it will cease to function, so it's important that the Legislature work diligently to ensure the agencies are able to continue their missions serving the people of Texas.
Addressing sunset bills that weren't passed during the regular session is the chief reason that the Legislature needed to return to Austin for a special session this summer.
The first item we passed was Senate Bill 20, legislation that continues the Texas Medical Board, Board of Examiners of Psychologists, Board of Examiners of Marriage and Family Therapists, Board of Examiners of Professional Counselors, and Board of Social Worker Examiners until September 1, 2019.
Annexation Reform
After the disappointing end to the 85th Legislative Session, when our annexation bill was killed as the clock struck midnight on the 139th day of the session, we gathered our resolve and worked to get the issue added to the Governor's special session call. With the help of thousands of property owners in Bexar County, we were able to get the item added to the agenda.
Senate Bill 6, the annexation reform bill filed in the special session, allows residents in an unincorporated Bexar County to vote on whether they want to be a part of San Antonio. For over a century, state law allowed home-rule cities like San Antonio to unilaterally annex property in their extraterritorial jurisdiction. With the passage of Senate Bill 6, property owners will finally have a voice in the process.
We are very grateful for the help of Senator Campbell, Reps. Huberty and Cortez, and Speaker Joe Straus for all of their hard work to secure your right to vote.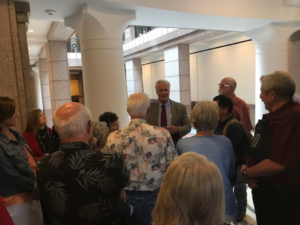 (Strategizing with homeowners in the IH-10 area whose neighborhoods were targeted for annexation by the City of San Antonio.)
Public School Finance
House Bill 21 provides a total of $322 million for the 2018-2019 biennium:
$150 million for the Hardship Grant, a glide path to help school districts with financial hardship and the expiration of Additional State Aid for Tax Relief (ASATR);
$60 million for the buy down of the Existing Debt Allotment (EDA);
$60 million for Charter Facilities Funding for qualifying charter schools; and
$41 million for the Small District Adjustment to include districts that are under 300 sq. mi.
Adds an additional $212 million to buy down premiums for TRS-Care or to assist those under TRS-Care in caring for their adult dependents with special needs.
Sets aside $40 million from the Foundation School Program (FSP) to establish innovative grant programs for students with autism and students with dyslexia.
Provides the framework to establish the Texas Commission on Public School Finance.
Cracking Down on Mail-in Ballot Fraud
Senate Bill 5 clarifies current election law as it pertains to mail-in ballot fraud by elevating existing penalties for those who knowingly and intentionally deceive, mislead, or misinform voters.
SB 5 does the following:
Eliminates electronic signatures on applications for mail in ballots. Electronic and faxed applications must now be followed up by the original application with the original "wet" signature. Aligns with voter registration requirements.
Enables and requires signature verification and ballot board committees to reject fraudulent ballots. Currently, these boards may not reject a ballot, they may only confirm the signatures are, or are not, a match.

SB5 grants them authority to deny if the signatures on the application and carrier envelope are not those of the voter, and/or do not match.
Also, adds liability to ballot board members who knowingly accept invalid signatures.

Creates new definition of "voter fraud", establishes a "voter fraud" offense (Class A Misdemeanor), and gives law enforcement the tools they need to go after violators.
Stands up for good public policy and repeals an amendment passed after HB 658 had left the House during the regular session. Had SB 5 not repealed this amendment:

Thousands of nursing homes and residential care facilities would be turned into temporary polling places – doubling or tripling the number of early voting locations that county offices must staff and supply.
Residents would be treated differently than other mail ballot voters, a direct violation of the federal Voting Rights Act.
Not only would this legislation disenfranchise a fragile group of Texans who have the right to vote an informed ballot, but it would also sacrifice the security and safeguards nursing homes and care facilities provide for these voters.
Continuing the Maternal Mortality and Morbidity Task Force
Senate Bill 17 Directs the Health and Human Services Commission to:

Evaluate options to address the most prevalent causes of maternal death, such as treating postpartum depression in low income women;
Develop and make available information and educational materials for physicians to screen pregnant women for substance use and domestic violence and list available treatment resources;
Study options for reducing severe maternal morbidity costs and improving quality in the Medicaid program; and
Conduct a feasibility study regarding the addition of quality metrics in the Medicaid program to be developed by the maternal health and safety initiative.

Tasks the Department of State Health Services to establish a maternal health and safety initiative to develop best practices targeted towards lowering maternal mortality and morbidity by sharing information with health care providers.
DSHS is also required to report on the complications associated with collecting accurate and complete cause of death information, and to provide recommendations to improve data collection.
Extends the Sunset date of the Task Force by 4 years from 2019 to 2023.
Property Tax Reform
With regard to property tax reform, the House voted to put new limits on property tax growth and give property owners better information about appraisals and the setting of local tax rates, however, agreement wasn't reached with the Senate before the special session ended.
While the legislation introduced would not have provided real property tax relief in terms of a reduction in the amount you pay, it would have reduced the amount cities and counties could raise the effective tax rate before a roll back election would be triggered.
As school districts represent the lion's share of the property tax burden on property owners, true property tax reform will only be achieved with school finance reform. As you can see in the chart below, the State's share of education funding has consistently dropped over the last several years. To reduce your property taxes, the State needs to reform the school finance system, and commit to paying its fair share to school districts.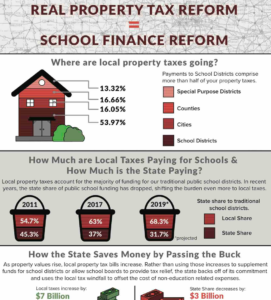 Ethics Reform
As we discussed during the regular session which ended May 29th, we pursued legislation to address one of the most egregious ethics problems facing our state. Our bill sought to prohibit individuals who have donated more than $2,500 to the governor's campaign from serving as officers appointed by the governor for a calendar year.
Appointing officials to state boards and commissions is one of the most important roles of the Texas governor. This bill was developed as a solution to putting a stop to pay-to-play politics and require more accountability from Texas's elected officials. Unfortunately, while this bill was passed by the House in the regular session, it was never referred for consideration by a committee in the Senate, so it died.
Many Texans agree that an officeholder receiving millions of dollars seemingly in exchange for a few political appointments does not pass the smell test, so we refiled this bill for consideration in the special session. While the bill didn't succeed, we will not give up the fight. Texans deserve better from their government. For more on our efforts, please take a look at this San Antonio Express-News article.
---
Hwy 281 Expansion Update
As we mentioned here before, construction is underway on the 281 expansion project!
For the last 15 years, we led the fight to get Hwy 281 north of Loop 1604 expanded without tolls, and we've done it. At a total cost of $192 million, there will be 6 lanes in each direction with the north flyover connectors off Loop 1604.
As TxDOT contractors work to expand the freeway, we expect lane closures and detours over the course of the next few years. Stay updated by checkingTxDOT's website to plan your commute. Here is a timeline of closures for next week.
For more about the project, please see TxDOT's 281 project site.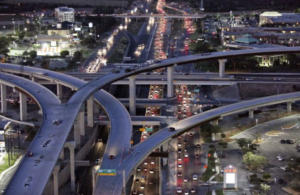 ---
Texas Armed Services Scholarship Recipient Announced!
We are thrilled to announce the selection of District 122 resident Sky Avants for the Texas Armed Services Scholarship!
Sky grew up in San Antonio and graduated from Smithson Valley High School. She is currently a Junior at Rice University, majoring in Economics and Political Science with a minor in business. She is a Naval ROTC Midshipman, serving as the Administrations officer and aspires to be a Naval F-35 fighter pilot.
Each member of the Legislature is able to appoint one student per year for this scholarship. The student must:
Be on track to graduate or graduated high school with the Distinguished Level of Achievement Plan or the International Baccalaureate Program
Have a high school GPA of 3.0 or higher
Have achieved a college readiness score on the SAT (1070) or ACT (23)
Ranked in the top one-third of the prospective high school graduating class
Enroll in a Reserve Officers' Training Corps (ROTC); agree to complete four years of ROTC training; graduate no later than six years after the date first enrolled;
After graduation, the student must enter into a four year commitment to be a member of the Texas Army National Guard, Texas Air National Guard, Texas State Guard, United States Coast Guard, or United States Merchant Marine; or contract to serve as a commissioned officer in any branch of the armed services of the United States;
Repay the scholarship if the requirements are not met;
Meet the satisfactory academic progress requirements set by the institution.
Congratulations Sky!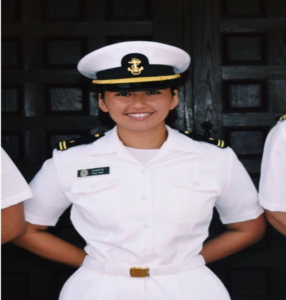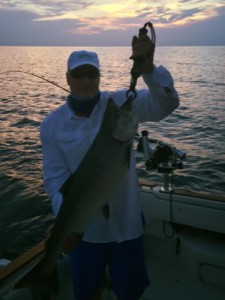 (Did a little fishing after the special session ended. King salmon have less slime than 170 days in the Capitol!)
As always, please feel free to contact my office if we may ever be of assistance to you by phone at (210) 402-5402 or by email at lyle.larson@house.state.tx.us. We look forward to hearing from you!
Best,
Lyle Larson