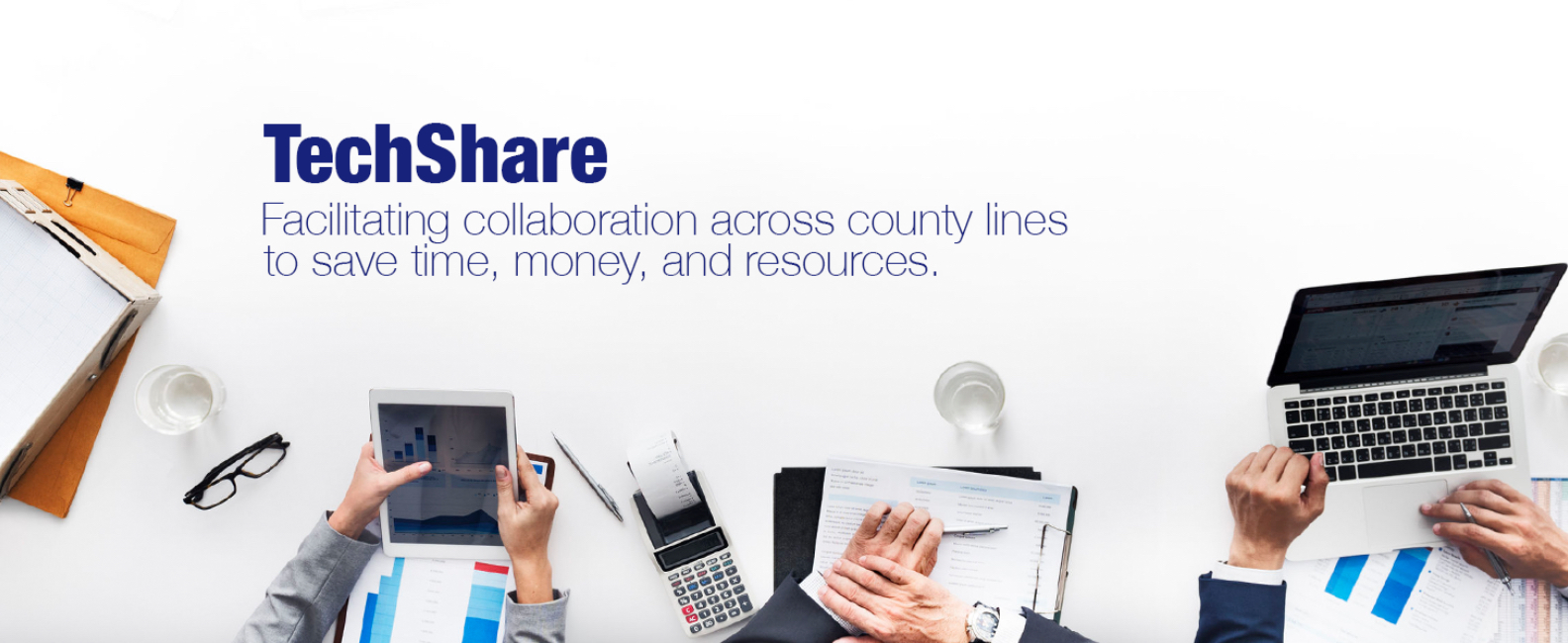 Improved efficiency, productivity, document management, and compliance with state regulations are just a few of the benefits of joining the TechShare program. Some other key benefits include:
Empower counties to control their destiny
Software solutions developed at a fraction of the cost
Intellectual property is owned by the counties
Resources can be leveraged across counties
Specialized solutions that meet county-specific needs
Feedback from end users is used to increase functionality
What is the TechShare Program?
TechShare, a program of the Texas Conference of Urban Counties, was established in 2004 to help counties implement advanced technology solutions. By collaborating, counties save money by sharing the cost of research and development. These projects can produce applications, systems, or other technology assets to enable more efficient processes for administration of justice. Counties outside of the program can "purchase" the software from the counties that originally funded development. The money used to develop the software is not retained by the TechShare program.
We are committed to building county-owned technology solutions to support local communities through cost-effective collaboration.
Who is eligible to join?
Any local government entity that can participate in an inter-local agreement under Texas law is eligible to participate in the TechShare program. When two or more Texas counties decide to develop or acquire a technology asset through TechShare, there's an opportunity to recover some of the original funding when additional counties join the program.
Non-Profit
TechShare is committed to building technology solutions where counties control their own destiny. We think like counties because we're owned by counties.
Shared Cost
Since counties save money by sharing the cost of research and development, they can acquire solutions at a fraction of the cost they might incur through a traditional vendor.
Innovation
Because our team works directly with the counties, we build specialized solutions that meet county-specific needs. End user feedback is collected throughout the entire project, and continues on an ongoing basis once implemented.
We've been partnering to create software that we all use throughout the state. It's truly been a collaborative effort.
B. Glen Whitley
We are developing software that we need; software that we would have either had to develop on our own or buy from somebody else. To get money back for doing something that we would have had to do anyway…that's a good deal.
Roy Charles Brooks
I don't know that I've ever heard 'no' from TechShare; I can't say the same about software vendors I've worked with before.
Randall Sims
Want to learn more?
Drop us a line anytime, and one of our team members will get back to you shortly.