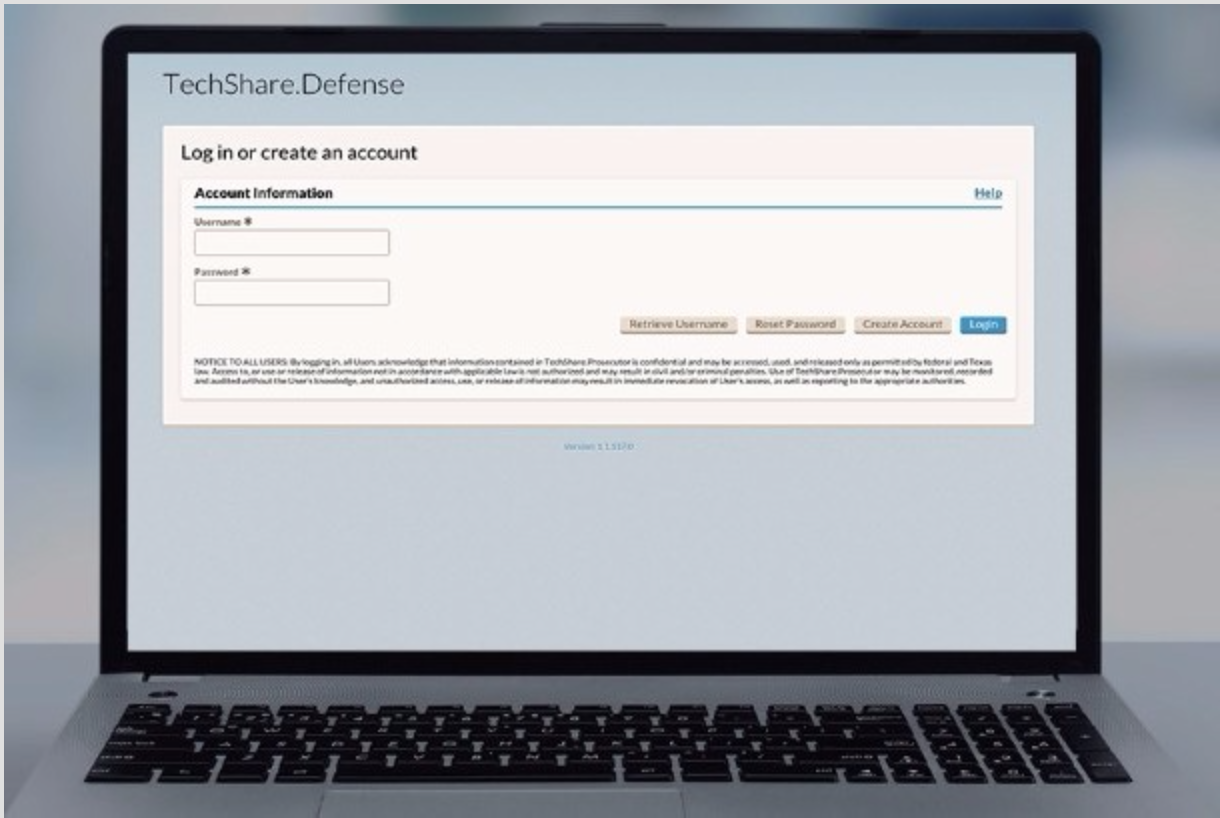 Since 2004, TechShare has been helping counties implement technology solutions to enable more efficient processes in the justice system. Across the State of Texas, successful implementation of several TechShare projects have been completed in rural and urban counties alike. By sharing the cost of research and development across multiple counties, for applications, systems, or other technology assets.
One such solution is geared for managing cases for indigent citizens of the state. Indigent defense often becomes a financial burden to counties because there is little funding on the state level and often providing this service becomes an unfunded mandate. Through collaboration with Texas Indigent Defense Commission (TIDC) and test counties, the TechShare.Indigent Defense portal helps counties increase efficiency and accuracy in case management and ensures compliance with state oversight commissions.
Initial funding for the TechShare.Indigent Defense project was 100% grant-funded by the Texas Indigent Defense Commission. The grant covered implementation, support, and technical migration of the current system for each of the original eleven participating counties over a 3-year timespan. This effort originally began in August 2013, when the Texas Indigent Defense Commission awarded a grant to Tarrant County (as the grant administrator and on behalf of itself and other participating counties) to address three recommendations set forth by the Texas Conference of Urban Counties as the result of an Indigent Defense Systems Planning Project.
In December 2014, Bell County was awarded additional grant funding for enhancements to the system on behalf of the participating counties. As the counties continue onboarding more users, they've identified areas where enhancements under the grant will improve overall accountability, transparency and flexibility in the system.
The grant funding allows the TechShare.Indigent Defense team to add robust functionality for juvenile appointments and vouchers, enhanced attorney and magistration portals, core enhancements to the system and additional points of integrations to other county systems such as jails and courts.
There is currently a total of eleven counties participating in this project. As of November 2016, the following counties are live on the system: Bell, Brown, Coryell, Medina, Mills, Montgomery, Real, Tarrant and Uvalde. Anderson and Victoria counties will implement and go live with the system by the end of 2016.
TIDC recently announced it would continue to provide grant funding to additional counties interested in participating. The grant covers half of implementation costs determined by TechShare based on need as well as two years of maintenance and operations costs. The scope of implementation can vary from county to county depending on specific needs including the extent of software integration and the size of data migration required. After two years, counties are responsible for the maintenance and operations costs which are predetermined and based on county population.
TechShare's agile methodology makes implementation as seamless as possible because extensive testing and assessments are made during the whole process. TechShare.Indigent Defense provides counties with a user-friendly platform with intuitive functionality. Some of the benefits include:
Reporting capabilities for budgeting purposes
Role-based features to increase local control
Set custom parameters to qualify defendants
All aspects of cases are handled electronically
Defendants are appointed to attorneys based on county determined system
Vouchers and payments handled electronically
More accountability within the court system
Streamlines roles and responsibilities within county
Tracking for attorney continuing education
Ensures compliance with the Fair Defense Act
Provides an accurate representation of how tax dollars are spent
Our product owners have seen improvements in many areas of their workflow including time savings, reporting and data entry. According to the Bell County Auditor, "Reporting to the state, which use to take days of labor, now take hours because of the reporting that comes straight from the system with all the demographic information included. All information around appointments and payments are in one system that can easily be reported on. Attorneys are now paid weekly."
After nine successful implementations since October and two more to be completed by the end of the year, TechShare is eager to help more counties across Texas streamline their processes regarding indigent case management.
If you are interested in learning more about how TechShare can support your county in applying for grant funding, please contact Charles Gray at cgray@cuc.org.